Regular price
Sale price
$19.95 USD
Unit price
per
Sale
Sold out
Crafted for Delight - Unlock an exquisite coffee experience with our irresistible Javy Coffee Syrups. Indulge in the warmth of nutty and buttery flavors that effortlessly elevate every sip, making your mornings a little sweeter.

Artisanal Bliss - Immerse yourself in the artistry of coffee perfection. Each batch of Javy Coffee Syrups is meticulously handcrafted, promising an unparalleled premium experience. Embrace the richness without worries, as our syrups are free from artificial sweeteners, gluten, allergens, and dairy, catering to even the most discerning palates.

Decadent Delights, Zero Guilt - Unleash a burst of guilt-free flavors with our low-sugar syrups. From velvety lattes to icy mochas, creamy smoothies, and even delectable baked goods, our syrups are the ultimate secret ingredient to creating delectable masterpieces. Fuel your creativity and let your taste buds dance with joy.

Unleash Your Imagination - Immerse yourself in a world of endless possibilities. Combine any of our 3 tantalizing flavor syrups with our premium Cold Brew Coffee Concentrates or Instant Protein Coffee for a symphony of flavors that will awaken your senses. Dive into a journey of taste that's as unique as you are.

Sip the Finest - Discover the epitome of coffee excellence with Javy. Proudly made in the USA, our Coffee Syrups are crafted using the finest ingredients, ensuring a rich, velvety texture that adds a touch of luxury to every sip. Elevate your coffee moments to new heights with our smooth, delectable creations that redefine what a perfect cup should be.
View full details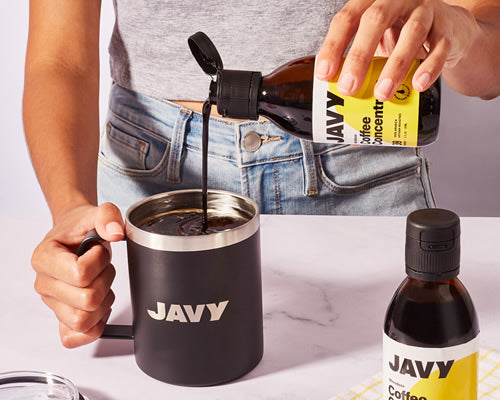 Javy Wholesale
We are committed in providing our Business Clients with the best pricing and fast shipping service. For larger quantities we can provide payment terms as well.

Important note: Javy requires you to sign a distributor agreement.